Product: Side Hustle: From Idea to Income in 27 Days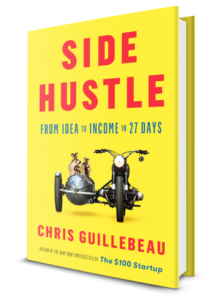 Author: Chris Guillebeau
Hardcover: 272 pages
Publisher: The Crown Publishing Group
ISBN: 978-1524758844
Price: $17.00 (retail)
Cheapest Place to Buy: Amazon.com
Product Dimensions: 5.8 x 0.9 x 8.5 inches
Shipping Weight: 13.4 ounces
My Rating: 8.5 out of 10
---
Side Hustle: From Idea to Income in 27 Days, Product Overview
This book by Chris Guillebeau, author of the New York Times bestseller The $100 Startup, provides a step by step approach to identifying and operating a profitable side hustle. It defines a side hustle as "a moneymaking project you start on the side, usually while still working a day job". That is to say, a way to earn some extra money without having to give up the security of your current employment.
The book is divided into five sections, roughly equivalent to one week each. However, some weeks have five days and some have seven, resulting in a total of 27 days as described in the book title. The sections are:
Week 1: Build an Arsenal of Ideas
Week 2: Select Your Best Idea
Week 3: Prepare for Liftoff
Week 4: Launch Your Idea to the Right People
Week 5: Regroup and Refine
There is also an additional section at the end of the book called Kitchen Sink. It is a list of resources to further your learning, including:
Side Hustle Starter Kit
How to Validate an Idea with $10 and a Facebook Account
Write a Letter to your Ideal Customer
Buy a Rental Property with a $1,575 Down Payment
Resources and Free Stuff
So, let's go through and review each section of the book. Much of the content is anecdotal, relating stories of people who have acted on that section of the book to develop their own successful side hustles. I will not review the merits (or otherwise) of these side hustles but will look at the steps required to make your side hustle happen.
Week 1: Build an Arsenal of Ideas
The objective of the first week is to learn to generate ideas. It consists of 5 daily tasks that will teach you how to generate great side hustle ideas that can create additional streams of income.
The first day is an exercise in framing how your mindset will change as you work through the 27 steps.
The second day looks at the 3 qualities of a great idea:
is your idea feasible?,
is your idea profitable? and
is your idea persuasive?
On the third day, your task is to use what you have learned about high-potential ideas to brainstorm three potential side hustles.
The fourth day is an exercise to understand the pros and cons of each these ideas.
Finally, on the fifth day, you are shown how to estimate the profit of your side hustle on the back of a paper napkin.
By the end of the first week, you should have several potential side hustles in mind. You should have weighed up the pros and cons and the profitability of each one.
You are now ready to decide which one you will turn into action in Week 2.
Week 2: Select Your Best Idea
The objective of the second week is to select your best idea, as not all ideas are created equal. The week again consists of 5 daily tasks, this week focusing on how to rank and compare ideas to maximize your chance of success.
The sixth day is an exercise in ranking your three potential side hustles, based on the qualities of a great idea. An additional 2 qualities are presented:
how quickly can your idea be executed?
how excited are you about this idea?
On the seventh day, your task is to become a detective and see how other people are using this idea. How can you do it better or differently?
The task for the eighth day is to determine the profile of your ideal customer and what you can learn from them.
Your task on Day 9 is to transform your idea into an offer. An offer consists of a promise, a pitch and a price.
On the final day of Week 2, you need to create a great origins' story; "a compelling and inspiring narrative of the why" behind your side hustle.
So, by the end of the second week, you should have a firm side hustle idea that you have transformed into a full-fledged offer. You are now ready to dive in and get your offer up and running in Week 3.
Week 3: Prepare for Liftoff
The objective of the third week is to prepare to share your best idea with the right group of people. Week 3 consists of 5 daily tasks and an additional bonus task. It focuses on how you will get your ideal customer understand why they can't live without your offer.
Day 11 looks at the resources you will need to make your side hustle work.
On the twelfth day, you will determine the price of your offer. You will use a cost-plus model and follow 2 simple guidelines to assist you.
On the thirteenth day, you will learn that your side hustle requires some specific tools, resources and deliverables and where to get them.
Day 14 is a lesson on setting up a way to get paid for your offer.
Your task for Day 15 is to list out an orderly workflow for the launch of your side hustle.
Finally, there is an additional bonus task on Day 16 which relates to time management and concentrating on just two things; changing your customer's life and making more money.
Now that you have a solid offer to present to your customer, it is time to move on to your launch in Week 4!
Week 4: Launch Your Idea to the Right People
The objective of the fourth week is to launch your best idea (probably before you are ready) and track your results. Again, the week consists of 5 daily tasks and an additional bonus task.
It is now Day 17 and time to take your offer into the world.
Even with a great offer, money or customers won't automatically fall from the sky! Your lesson on the eighteenth day is to channel your inner Girl Scout.
On the nineteenth day, you will learn that as you begin hustling, it is OK to call on friends and supporters to get the word out.
Day 20 is a lesson on testing your side hustle. To find the most effective approach, try different things and keep a record of the results.
Day 21 looks at the benefits of deals, discounts and special offers to drive more sales.
Your bonus task on Day 22 is to take time to celebrate your initial achievements. Stop and smell the roses!
Week 5: Regroup and Refine
The objective of the final week is to refine the process and see what can be done to raise the game. Success is now within your grasp and you have 5 final daily tasks.
On day 23, you will learn to track your progress through several key metrics and then to take action based on them.
Day 24 is a lesson on identifying what is working and what is not, and then focusing on the winners.
Day 25 considers adding another expanded version of your side hustle to better serve your customers, if the offer is going well.
Every side hustle has key systems which you probably keep in your head. Day 26 looks at making your business work a lot better by using a system-based, process-driven approach.
It is now finally Day 27 and the finishing line is in sight………or is it just the beginning of something much bigger? Side hustles create the opportunity and freedom to do whatever you wish with your future and the options are unlimited. You can stop at one and say you are finished or you can move on to the next one and start from Day 1. It is your choice!
Have I read the book? What do I personally think of it?
Every time I need to re-energize my brain and it's quest for new knowledge, I read this book. So, I have read it many, many times!! Not so much for the steps, but to admire the successful side hustles achieved by other every-day people. People just like you and me.
What do I think of the book?
Side Hustle: From Idea to Income in 27 Days is a great read if you are just starting out or still considering a side hustle. There is not much detail in any of the steps and you will still have to look elsewhere to fill in the gaps. I plan to post additional articles covering these gaps over the coming weeks.
I would not consider this a 27-day plan by any stretch of the imagination; it is a stepped approach to taking an idea through to a successful side hustle in a time frame only you can choose (as it will depend on your experience and the amount of time you can dedicate to it).
Do not feel pressured to do all this in 27 days. Creating a side hustle is supposed to be fun. Stress is NOT fun!
I have read a number of reviews on Amazon that complain there is too much fluff in the book. While I assume they are referring to the anecdotal tales which make up a large part of the book, I actually think these will help a less experienced person understand how the steps work together to bring the finished offer together.
They are also a great source of ideas for generating you own side hustle ideas. After all, if they already work for one person, you may be able to create a side hustle to do it better or differently.
Overall, the book's concept of taking an idea and monetizing it into a solid offer to present to your customer is sound. If you follow the steps in the book, you can create a side hustle that will generate additional income for you.
Take action. Buy the book and start your own side hustle.
 
Update 19-Jan-2019
If anybody would like to listen to the Side Hustle School podcasts for a bit of inspiration, you can go to the website here.
---
Was this helpful? Share it with your friends. After all, they also deserve the fine things that life has to offer.